Chris and ClaireFairfield
Chris Ward and Claire Skinner were childhood sweethearts who drifted apart - until a chance encounter 25 years later brought them back together again. Today, the couple run The Fairfield, a popular pub in Wigston, Leicestershire and they share with us why they like owning their own pub business.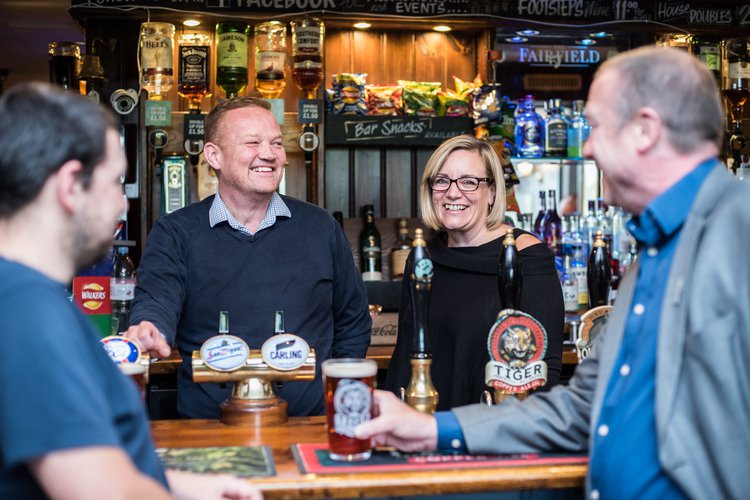 Having our own pub business means we can run it our way. We've created a great pub that has become the heart of our local community which fills us with a great sense of pride.
Claire might have been the one with the experience of working behind the bar, but it was Chris who pushed for them to buy their own place. Chris's background was retail, mainly, although he also worked as a shop fitter and a school caretaker. "But we always idly dreamt of running our own pub," he says. "We wanted to be our own bosses. That was the idea."
Having worked for all sorts of different brewers and bosses, Claire hasn't looked back since they took on their own pub business. "I used to hate it when someone from head office came out to your pub - the pub where you worked, where you knew all the customers, you knew what made it tick - and proceeded to tell you that you were doing was all wrong." she says.
"This would usually be followed by head office implementing A New Plan, a standardised head office plan which they were always convinced would work in your pub. And you'd look at them and think: 'You have no idea about this pub, these people, what works and what doesn't'," shares Claire.
"Having our own pub business, means we can run it our way and we are proud of what we have achieved in creating a great pub that works for our local community. Working with Everards, thankfully, is not like what I have experienced in the past," she says, with a sigh of relief. "They treat you as individuals. They listen to your plans. They back your vision. They trust you. They're supportive, not controlling."
The Fairfield is a big,1960s-built pub with a huge car park (a huge car park is not without its benefits), a family garden area, two enormous rooms and a loyal customer base.
In tough times, The Fairfield is doing well. "I'd say we're mainly a drinkers pub that does a bit of food," says Chris. "But what has kept us going is that we're part of the community here."
"We're an old fashioned pub and the heart of this community and we put the people who use the pub first," says Chris. "We like our customers and we're investing in them, too. We've put a lot of our own money into refurbishing the pub: new carpets throughout, redecorating. We want it to be a nice place where good people want to come and have a drink."
In the day, the pub is frequented by pensioners who come for a drink and a chat and are greeted with a warm welcome. In the evenings, it's enjoyed by local tradesmen, football teams - the pub sponsors two - local groups and many of their regulars.
"We try and cater for everyone." says Chris. "We have live bands, karaoke and quiz nights which bring in people from across the community and our carvery goes down a treat."
The jewel in the pub's crown, though, is its function room - a spacious, comfortable, recently refurbished area which for a variety of occasions. It's this, say Chris and Claire, which sets their pub apart.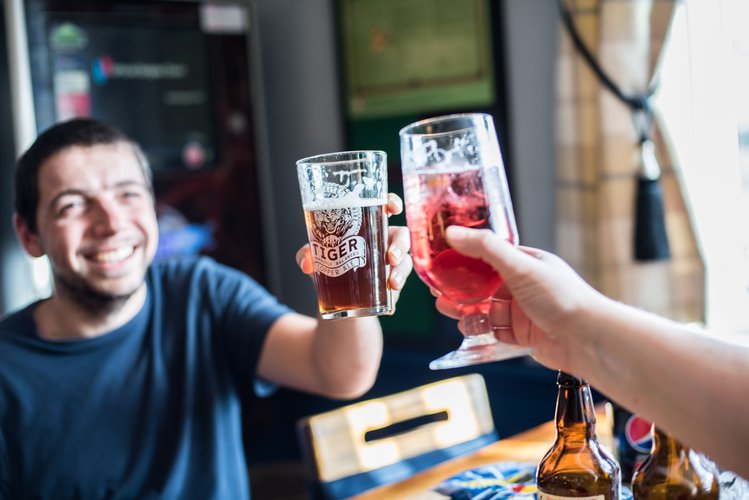 "It's not just that it's a good sized room and can accommodate lots of people - it's so versatile," says Chris. "And it means the pub becomes a focal point for the people who live around here."
They can hold a wake there one day and a Christening the day after. "We've used it for baby showers, birthday parties, wedding anniversaries, football presentations - it's a very flexible space," says Chris. "And because we have a huge car park, we can accommodate more people,"
The function rooms act as a shop window, an impressive first impression for people who have never been to the pub. "When people come in, they see the room and they often ask us: 'Ooh, could we book this for my mum's 70th birthday?' It's a great advert for the pub and what we do."
It's not easy running a pub, especially one as large as the Fairfield. Chris and Claire share the workload, helped by a brilliant team of young people who are more like family members than staff, they both agree.
Chris does most of the front of house work, the finance and admin while Claire is in the kitchen, doing all the housekeeping and also serving behind the bar. You have to find a balance that works, says Chris.
"It's a roller coaster of a life, running a pub. You can have a brilliant week one week, think everything is great - and then, if it's the week before pay day, it's suddenly hard work again," he says.
"I think there is a perception amongst some people that running a pub is easy. That you just turn up at 7pm, pour a few pints, have a laugh with your customers and that's it," says Chris, with a wry smile.
Those people, he laughs, they're in for a surprise. "There were lots of things I had no idea I'd have to do - but you soon learn. You do it. You get on with it."
Communities have changed. Pubs have changed. Life today is very different to what it was a generation ago. Everyone knows that, says Chris.
"But the communities with the strongest ties are the ones with the best pubs, where people - from all sorts of backgrounds - come together and have a drink.
That's what they're about, says Chris. "We want to run a good pub where people can come, meet their friends and have a laugh. These are not just our customers at The Fairfield. They're our friends. We're lucky to be able to say that."
Could running your own pub be for you?Share your vision and we'll talk you through everything