Paul and EllieFalcon
It's a small village pub in a small Leicestershire village - but after years of just ticking over, The Falcon Inn in Long Whatton is now soaring. So how have husband and wife team, Paul and Ellie Higginson, made it work?
Paul and Ellie Higginson are not just the licensees at The Falcon Inn, in Long Whatton, picturesque north west Leicestershire.
They're also the cooks, cleaners, hotel staff and chamber maids (the pub has 11 rooms, which are full virtually all year round), on-site carpenter, handyman and permanently on-call taxi driver.
If you're thinking that sounds like it's all above and beyond the call of duty, then you're absolutely right, laughs Ellie. It is.
"But it's what we do," she says. "It's what we've always done. We want to go above and beyond. It's the difference between an ok or good pub - and a great one."
Ellie was raised in a pub. Her dad, Steve Conroy, was the goalkeeper for Sheffield United from 1974 until 1983.
"When footballers retired in the 1980s they became one of the three ps - a postman, policeman or publican. My mum and dad took on a pub".
Growing up in a pub taught her two very important lessons from an early age: i) running a pub was relentlessly hard work and ii) she never wanted to do it. That changed when she least expected it.

Ellie met Paul, a carpenter, and they settled down and had children. Paul worked long hours in London. "I seemed to be working all the time, earning good money - but I never saw my wife and kids," he says. Their work/life balance wasn't working, he says. Instead, they decided to start a new life in Spain.

Ellie sold houses and holiday properties and Paul started his own construction company. For a couple of years, life was sweet. "I used to finish work at 2pm and we'd all be on the beach by 3pm," says Paul. "We did that every day."
But then the recession arrived. Building work dried up. No-one wanted to buy houses - and mortgage rates went up. Ellie and Paul decided, reluctantly, to return home.
A friend in the pub game said they should try running their own hostelry. They were unsure. But they had no home, no other real prospects. There didn't seem to be much choice. Within a month, they were running a new pub in Doncaster.
What they lacked in pub experience, they made up for with enthusiasm, hard work and old-fashioned common sense.
"I thought to myself: 'Well, what do I like in a pub?' and I set about making my pub like a pub I'd want to drink or eat in," says Paul.
They moved from pub to pub, from town to village, all over the Midlands - cleaning up old pubs, increasing trade, improving the turnover - arriving at The Falcon in 2016 .
"We loved the pub and the village," says Ellie. That was two years ago - and the pub continues to grow.
Their secret? "There isn't one, big, easy secret," says Ellie. "If only there was".
"Running a good pub is all about people - your staff, your customers. We have staff that have come with us from other pubs," she says.
"We work hard and we have an ethos - which we want our staff to share - that we aim to go the extra yard."
It was the Download rock festival at nearby Castle Donington earlier this summer, she says, as an example. They have two Scottish lads who stay at the pub every year for the festival. "I know they like Irn Bru - so I always get them a few cans and leave it in their rooms."
Ellie will drop guests off at the festival and pick them up at midnight - free of charge. She takes guests to the airport, and picks them up - even if it's late at night or early in the morning.

"We don't have to do that - and there are times when Paul says just that - but it's about going the extra mile."

Paul, meanwhile, is constantly renovating and improving the pub. He's built a gin bar outside, new furniture from reclaimed wood and turned the garden area into a mecca for summer guests.
"We worked for other breweries and we always felt we were being constrained. We'd have ideas but the bosses were always like: 'Hmm, we're not sure about that…'
"Everards aren't. I'm thinking of new things all the time. And we can do it, too. "
The difference between a great pub and an ok pub, says Ellie, are what they call 'The TNTs' - Tiny Noticeable Touches.
"Small things we can do which make a difference," she says. The Irn Bru. The late-night pick-ups. "People appreciate that," she says.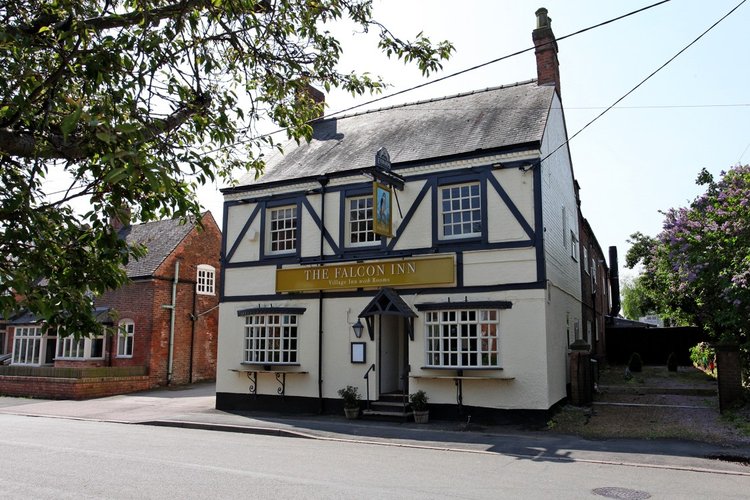 "We've moved around a fair bit since we came back to the UK - but we feel settled here. We feel like we belong, We don't want to move".
Could running your own pub be for you?Share your vision and we'll talk you through everything