Sue CalpinFox and Goose
Sue loves her local community and village pub so much, that she decided to take it on, alongside her full time job as a hairdresser. It is hard work, but she loves it!
The Fox and Goose is a unique little pub, like a vast number of Everards pubs and it has been owned by the independent family for many years. The pub sits in a small village in Leicestershire and at one point in time, only opened for a few hours a week!
Times have changed, and the need for this little pub to do more for its community had come, but to succeed it needed someone who knew the village and loved it as much as the pub; that person was Sue Caplin.
The pub needed to live once more as modern pubs do, with regular opening times, a great beer selection and an attractive food offer to draw in new customers from outside of the village.
The local community wanted to support their pub; it's a cosy living room where they all get to meet up and chat about village life and daily musings – if you ever been, it's worth a visit!
Sue had a vision of what this pub could be.
"Because the people in the village knew I had a license, they asked me if I'd go for it when it became available," says Sue, "so I said I would. I entered into it this time around with two other partners, who would have run the pub on a day to day basis while I headed up events, my role was to be more of a helping hand as I still had my hairdressing business and clients."
However, on the day of signing Sue's partners both pulled out.
Sue was devastated; "I then had to make a big decision and as a village person it was very important to me not to lose the pub. All the villagers were behind me and Everards had been great, so I went for it. My husband is a builder and I am a hairdresser. We both still need to work, so we carried on doing our jobs full time, whilst learning how to run a pub!"
"We did what we could ourselves in-between our jobs, but we had to get staff in. It wasn't financially viable for us to quit our day jobs, and it soon became clear that for this pub to push forward and grow it needed a manager, someone to be around for customers daily and be the face of the business when we couldn't. I work the pub around my hairdressing shifts and my husband works in the week on-site and then in the pub all weekend. The pub has grown so much, and we've got a fantastic chef and team now, so it is going from strength to strength. We have a great community and we put on lots of events. When we run charity nights, we raise a hell of a lot of money for such a tiny village." says Sue.
The pub is famous for its Onion Sunday competition where they raise thousands and thousands for charity through the growing of onions within the community. Last year the ladies of Illston created a calendar and have so far raised around £6,000 for charity.
Although not the way Sue had planned, the pub now attracts many visitors from far and wide and is building on their positive reputation every day.
"It's hard doing it the way we have to" says Sue, "it's not the way we planned. The pub is busy and lively now though and that's so nice to see as that's why we took it on, we wanted to see our village pub thrive and be more. We wanted to see that heart and soul come alive, which is what we have managed to do and are really proud of what we have achieved so far".
"We will continue to work crazy hours as we love our jobs" says Sue, "I love hairdressing and my husband loves building eco houses. This pub isn't a normal pub, it's such a fabulous building full of character, quirk, history and heart and the village needs it. "
So, Sue manages to run this beautiful pub with the help of a great team. The fact she can work it around her clients with support from her husband at the weekends is highly commendable, as running a pub 24/7 is hard enough, but doing that whilst still doing a full-time job is challenging for anyone.
"The brewery is great and are always there to support us when we need them. The telesales team are great and always help with any product recommendations when we need them, like what new gins are in and provide an interesting range of beers for us to choose from"
"I'm a hairdresser so I love the social side of the pub, I love people and the banter, and it makes me happy being here. Now I get to do both, and I won't lie, that can be hard and tiring at times, but I love this pub and the people in the village and I really do enjoy it." says Sue.
Clearly Sue's skills as a hairdresser, working for herself, keeping her books and organising her time and diary have helped her with running the pub. As well as ordering hair dyes, shampoos and conditioners to make sure her customers have the best, she now orders gins, wines and beers to keep her new pub customers happy.
Making sure the pub runs smoothly comes naturally to Sue, with a clear passion for people and chatting away to new and old hairdressing clients over the years has come in handy when getting to know her new pub customers. Sue makes sure that whether it's a hairdressing client or a pub customer, they always leave feeling happy and content.
"Perhaps I should have been more sensible when the others pulled out, but I went with my heart and I love this pub. We've grown the pub and put our heart and soul into it and will keep going as we want it to be the best for the village and anyone that visits. We've always been big on village life and thought we were already a big part of the community here but running a pub has pulled us further into this amazing community as we get to talk to so many people on a daily basis and really bring people together!"
Sue and her husband are doing an amazing job with this pub and it just goes to show that if you have a passion for what you do, you can achieve wonders, whether that's styling hair, building homes, running a pub or all three at once!
Interested in finding out more?
Give us a call on 0116 201 4260 or get in touch.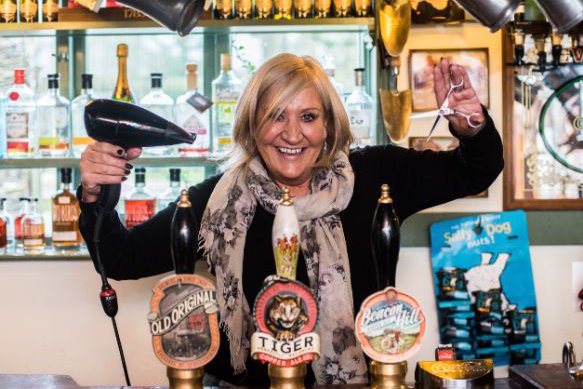 "I used to be a hairdresser, now I get to style my business around my life." Sue,
Fox and Goose, Illston
Could running your own pub be for you?Share your vision and we'll talk you through everything