Hannah SmallThe Heathcote Arms
Hannah used to be a logistics manager in a hospital, now she loves being her own boss and organising fun events in her pub to bring the whole village together.
After leaving school Hannah started her career at her local hospital as an administrator. She moved through a variety of roles as she developed in her career, before finally moving into the role of Logistics Manager. She managed 150 people and was responsible for financial budgeting, moving equipment from A to B within the hospital, staffing and overtime.
In her spare time Hannah also worked at her local pub The Heathcote Arms in Croft, as a way of socialising. She is a people person and with her friendly and bubbly personality, working behind the bar suited her.
Hannah had been working at the hospital for 13 years when she came to a crossroads in her career. She was doing well at the hospital and could have stayed there for many more years but had a feeling that it was time to take a leap of faith and move into something she really enjoyed and wanted to do!
Hannah decided it was time to make the move into the pub trade and reached out to Everards to find a pub business that she could make her own.
"When I registered my interest with Everards, they suggested that I take part in one of their 'Try Before You Buy' programmes. I had worked behind a bar for four years, but until I took part in the programme, I didn't realise how much goes on behind the scenes. I got to spend the weekend with business owners in their pub and it gave me a real taster of pub life and what's involved. It also helped me and Everards to highlight any gaps in my skills and knowledge which I could then get help and support with."
As the search was on to find the right pub, Hannah couldn't believe her luck when the one pub she really wanted came up as an opportunity.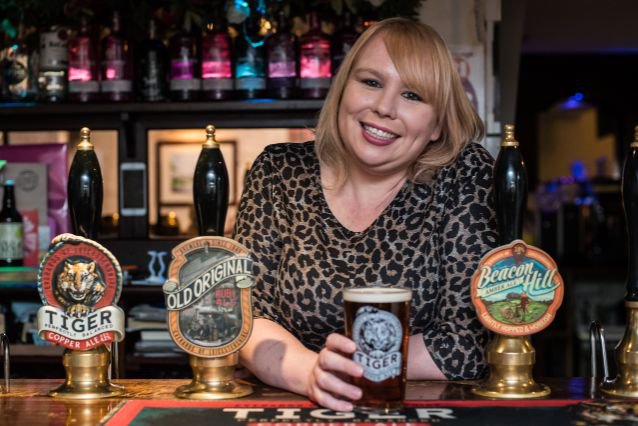 "It felt like fate when The Heathcote Arms came up. I knew the pub, the customers, the potential it had, and I already had a vision of what I wanted to do with it," says Hannah. "Everything just seemed to slot into place."
Hannah did have a little to learn, "Working in the kitchen was a real learning curve for me and I had no idea when it came to finance" said Hannah. But she also had some great skills she has gained in her career at the hospital; she was used to placing orders, excellent at organising and planning and she had great management skills which all came in very handy.
Hannah now has a great pub business and is thriving on the challenge of making it a great local pub for all to enjoy.
She has really immersed herself into the community and her pub sits at the very heart of it; she is even the Vice Chair of the local church. "I still have work to do to get the pub where I want it to be, but it's coming along. I just want it to be a great pub for my community to come relax, chat and have fun!" says Hannah.
"And I love being my own boss." shares Hannah. "When you work for a big organisation like I did, it could be so frustrating and take so long to get the smallest improvements made or ideas put into place, but now if I have a great idea or want something done I get on with it and it gives me a real sense of achievement!"
Hannah lives above the pub with her fiancé Mike and dog Bruno and life couldn't be better as she counts down to her wedding later this year.
"I can't ever imagine leaving the pub trade and not being my own boss." Says Hannah. "Yes, it is hard and takes up all your life, but it works for us and I can't imagine anything different.
It gives me a real buzz when I walk around my busy pub and there is lots of laughter and chatter!"
Could running your own pub be for you?Share your vision and we'll talk you through everything