Lisa and PaulElephant and Castle
Lisa and Paul where fed up of working for other people, now they enjoy being their own boss and playing a part in their local community.
Paul made the big decision to leave his job as an energy efficient lighting salesman after Lisa was made redundant from her job in manufacturing. We chatted to them both to see how they came to the decision to take on a pub and how they went about it.
"We'd had enough of working for someone else" says Lisa, "I'd thought about running a pub many years ago, before I met Paul, but it wasn't something I wanted to do on my own. I'd just been made redundant and Paul was working silly hours and we'd just had enough. I didn't even think about running a pub at first, I was going to go into dog grooming!"
Paul was going through a 'mid-life crisis' as he calls it, doing lots of hours and lots of travelling, all for someone else and he was fed up.
"I came home one night and said to Lisa, I just can't do this anymore. Lisa sent me to the pub where I met up with some friends. We chatted about how I was feeling, and it was suggested by a few that hospitality would suit me as a career, it wasn't something I had actually considered before" says Paul.
That night Lisa went to see her sister Kerry who was running her own pub with Everards at the time and they chatted. By the time she'd got back and talked to Paul, they'd decided that they could do it too, "We wanted to run a pub. We wanted that independent feeling of being your own boss and doing what you wanted to and most importantly getting back what you put in." says Paul.
They knew they wanted to go with Everards, Lisa had worked in Everards pubs all her life, they drank in Everards pubs and Lisa's sister had been through the process with Everards. So, who they would run a pub with was never in question. They just wanted a small community pub that was drinks led not food led that they could make their home.
"I fell in love with this pub straight away, even though we'd been focusing on another Everards pub, that went out the window when we walked through this door" says Lisa.
Paul with his commercial background knew there was more to pub business than pulling a good pint, "We took advantage of everything that Everards offered us before we took the pub on, including a 'what's it like' night and a 'try before you buy' weekend. Everards were very thorough, they really wanted to get to know us and help determine if this was the right choice for all of us."
Pauls advice to those thinking about this as a career is; "be realistic when you take on your first pub, it will be hard and you can have all the info and stats and plans before you take a pub, but if it's actually going to work for you you'll never know until you do it. You need to be financially set in other areas of your life, as with any new business you may not actually make any money in the first year, perhaps not even in the second and you need to be ready for this."
"Having a pub is full on, you have to consciously manage your time, something we've slowly learnt. In the first three months we were just busy fools" says Paul, "We've made a point of making time for us as a couple, away from the pub, as despite physically being with each other every day, its work and you are so busy you just pass each other by. You need to go in with your eyes open, running a pub isn't just pulling pints and chatting to customers, that's only actually about 20% of the job."
"We love running this pub" says Lisa "we'd never go back to our old jobs. If I'd known before I started though, how intensely hard it was going to be and feel, especially in the first six months we probably wouldn't have gone through with it, if we're honest. Now we have gone through all that we have come out stronger and are proud of what we have achieved.
"We are beginning to roll now" says Paul "Lisa has come out of the kitchen and we are learning to use our staff and our time more efficiently. Everyone said to us, the third year is when the business changes and this is turning out to be true for us. Our reputation has grown, and our marketing is now paying off."
Paul and Lisa love running their own pub. Coming from engineering and commercial sales jobs hasn't stopped them from transferring their skills into running a popular country pub that really lights up their local community!
Interested in finding out more?
Give us a call on 0116 201 4260 or get in touch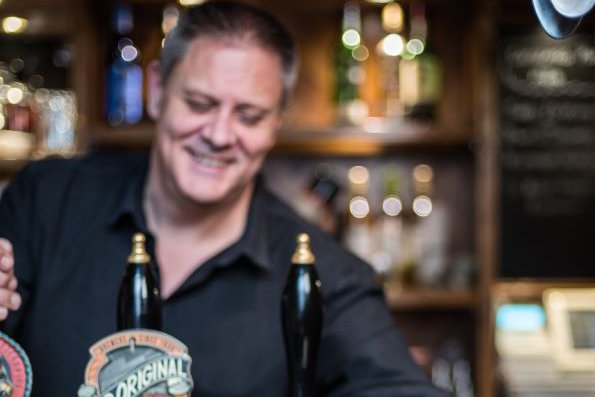 "I used to sell lighting, now my pub lights up the community." Paul,
Love your job #BeYourOwnBoss
Could running your own pub be for you?Share your vision and we'll talk you through everything