Angela and JasonDog & Gun
Taking over a pub in the middle of a Pandemic. In September 2020, during the middle of the Covid-19 pandemic, Angela and Jason took over the reins at The Dog & Gun in Keyham.
In what has been the toughest period on record for hospitality, Angela and Jason have quickly made an impact with locals, putting the pub firmly back at the heart of the village community.
The Dog and Gun is a picturesque pub in the beautiful village of Keyham, approximately five miles from Leicester. The pub is best described as a destination site due to its location, and it acts as a perfect stop off for walkers, cyclists and horse riders, all of which frequent the pub.
As parents to two young children, aged 2 and 11, Jason and Angela's choice of pub was incredibly important. Angela explains, "Our main attraction to The Dog & Gun was its building style and location.
We had been in talks with Everards for almost two years to help us find the right pub. The ideal site had to be safe for our two young kids to grow up in, and we wanted it to be community focused, where everyone knew each other."
Jason is a qualified chef by trade, counting film stars in Cannes amongst his former dinging guests, so a quality food offering was always in the couple's agenda. "We needed somewhere that could offer adequate catering facilities to enable us to provide the kind of meals we pride ourselves in."
Angela and Jason were quick to immerse themselves into the heart of the community and used the lockdown period to open a village shop inside the pub. The shops began selling essentials including tinned food, toilet roll, bread and eggs, which then grew to include fresh meat, cheese and newspapers. They also offer a shopping service that is free of charge to the residents of Keyham who are unable to get to the supermarket because of the current situation. "From the moment we moved in, we had very firm ideas and plans of how we wanted to run the pub.
Those plans included introducing a village shop, offering a takeaway service, and becoming somewhere that people felt not only safe but welcome."
Their commitment to the community also saw them hold Christmas markets throughout December, which helped to raise over £200 towards making scrubs for the NHS. The pub also donated several hundred pounds worth of presents to children whose parents were struggling financially.
When Jason and Angela took over at The Dog & Gun it had been closed since March, but now such is the success of the pub's takeaway offer, they have started to bring staff back in. Angela added, "Whilst we are nowhere near our normal level of takings each week we are getting busier and staff are especially needed at the weekend when demand is particularly high."
During December the pub offered a 3 course lunch for £19.95 and such was the demand they began taking bookings for Christmas Eve and Christmas Day, eventually supplying takeaway Christmas dinner for over 130 locals. Whilst by next Christmas it's certainly hoped that drinkers will be back inside the pub, the takeaway Christmas lunches are something that Jason and Angela plan to continue.
As with everyone in the hospitality trade and beyond, Jason and Angela are looking forward to life post-lockdown. There are plenty of plans at the pub for summer and beyond with beer festivals, summer fetes and weekly BBQs high on the agenda. Jason and Angela also plan to market the pub as a wedding venue, which Angela and Jason will be testing first hand when they tie the knot themselves this summer.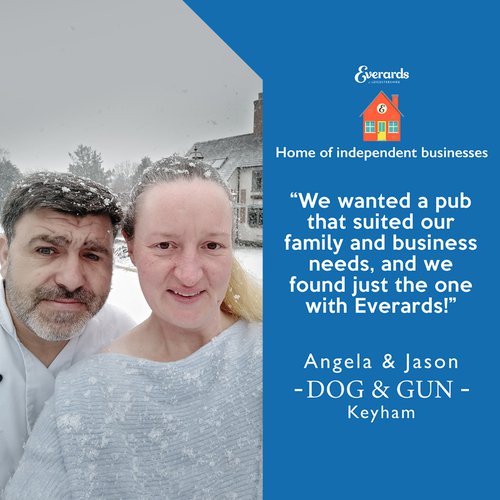 Having taken the time to work with Everards to find the perfect site, now there's no looking back. "For anyone looking to take on a pub, from a personal perspective, look no further than Everards. Unlike other companies Everards ARE very family orientated, being a family run business themselves, that philosophy is at the core of any dealings." Angela added, "Everards in short, have gone above and beyond for their licensees. They have shown such loyalty and support and in return, we will do the same."
If you are interested in running your own pub business or ready to take the next step with your own independent business, we would love to chat!
Could running your own pub be for you?Share your vision and we'll talk you through everything