Brian RigbyThe Stamford Arms
How do you go from being ready to travel the world; bags packed and money in the bank to deciding to get into the pub trade overnight? Well fast forward 20 years as Brian Rigby who runs The Stamford Arms, a hugely successful village pub in the heart of Groby shares his story with us...
Two decades ago, Brian Rigby was an injured ex-coal miner with a compensation cheque burning a hole in his pocket and a heady plan to travel the world.
His bags were packed. Everything was ready. He had a farewell party at his local the night before he was due to travel. It was the night when Brian's best laid plans changed.
"The landlord was a bit short staffed, so I helped him out. I collected the glasses, pulled a few pints, spoke to the customers."
It was good, he says. He enjoyed it. At the end of the evening, the landlord offered him a job. 'I can't,' he said. 'I'm leaving tomorrow. I'm going round the world'."

Brian went home that night and couldn't sleep. He wasn't dreaming about travelling the world. He was imagining a new life behind the bar. "I enjoyed it so much I thought I'd give it a try. I can always travel the world another day, I said to myself."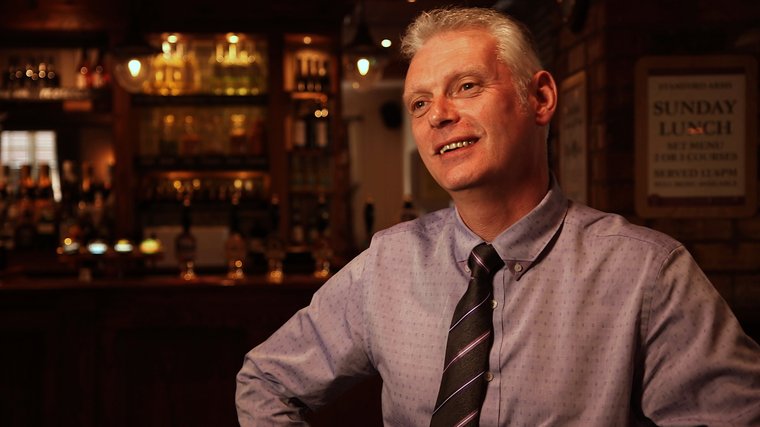 Today, a good 25 years on, Brian is still waiting to travel the world. In that time, he's taken the reins at more than 20 pubs across the East Midlands and has forged a successful career.
"What I try to do is bring all the things I've learned in a lifetime of working in pubs in to each place I run," he says.
"Each pub is different. You shouldn't try to take away the individuality of a pub. You need to enhance that and build on it - not wipe it out."
Every pub has a personality, he says. A good brewery recognises that and encourages it. The last thing they should do is suffocate it.
"Good pubs match the personality of the landlord and the really good landlord makes sure they match the personality of the community."
The Stamford, for example, is a big pub in a small village. "It should be a successful pub," he says. "It's the only real pub in the village - and yet, when I came here, back in 2012, it wasn't a successful pub."
Brian had a vision and a plan - but what was important, he says, was that Everards were willing to back his ideas, finance his ambition.

"When I came here, I didn't have much confidence in pub managers and breweries," he says. "But Everards changed that. They restored my faith."
Today, business is booming. Brian has moved his sights away from improving the pub to improving the village. He's the chairman of the Parish Council. He established a Rotary Club so the business leaders in the village could talk to each other.

"If they're talking to each other, they can do more things," he says. "Everyone benefits."
Brian has worked for several breweries. Joining Everards felt like he was coming home, he says, "What I like about Everards is that they're a family firm - and they listen to you. They trust you. They want you to do well and they're clever enough to realise that if you do well - they do well, too."
He likes that, he says. He can't see himself going anywhere else now.
And if he'd have caught that boat?
"Well," he laughs. "you don't know, do you? It's hard to know what would have happened. I don't have any regrets, though. I love my job, I love every single minute of it."
Could running your own pub be for you?Share your vision and we'll talk you through everything