Jez and BethThe Unicorn's Head
A huge fire destroyed The Unicorn's Head in Langar, Nottingham in 2015 - but, slowly, business owners Jez and Beth Ievins have rebuilt and improved their pub and business is booming. They do it all, while raising their little boy, Hugo. How do they make it work?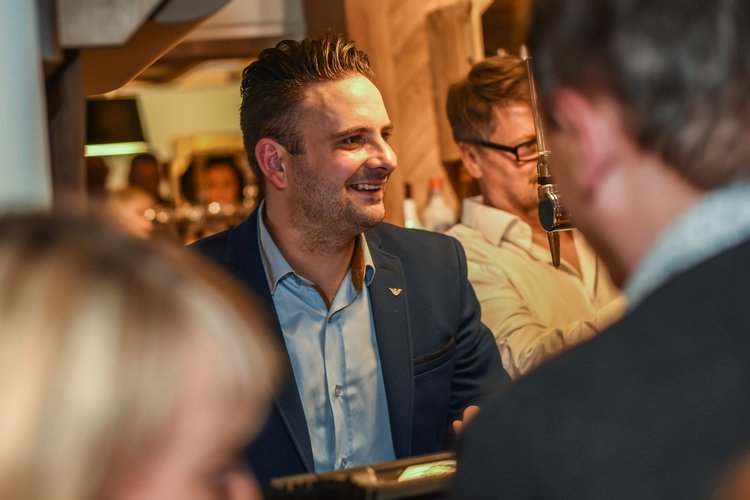 "The good thing about it is if I'm working downstairs and it's quiet, I can just nip upstairs and spend some time with my wife and son… you can't do that if you're working in an office."
You have to find a practical routine when you become parents for the first time - a routine that works for you and your new born baby.
At The Unicorn's Head pub in Langar, Nottinghamshie, new parents Jez and Beth Ievins have carved out a working routine that suits them, their son - and the pub where they live and work.
Their son, Hugo, is 19 months old. It's getting a bit easier now, says Jez, now Hugo is sleeping through the night and they have that routine.
"I won't lie to you, though," he says, with a weary shake of his head. "it was bloody hard work to begin with!"
When you're working until 1am and then you're awake with a crying baby at 3am and 4am, night after night, it's not always easy to paint that smile on your face and greet your customers.
Now, though, they put Hugo to bed at 8pm, bring the baby monitor downstairs and put it on the bar - and that way they can be on top of their business while keeping an ear out for their sleeping son.
Running a pub with a new baby is hard work, says Jez. There's no pretending it isn't. But if you're organised, work out a routine and, at first at least, can get by with very little sleep - then it's possible. The two things - being a young parent and running a busy pub - are not mutually exclusive.
"I miss the days when I used to work with Beth. We can't really do that now - one of us has to look after Hugo," he says.
"But he goes to nursery twice a week. His grandparents look after him every Sunday. That gives us a chance to catch up with things around the pub - and each other.
There are good points, too. Living above your workplace gives both mum and dad a lot of working flexibility.
"If I'm working in the pub and Beth is looking after Hugo upstairs, I can just nip up for a minute and spend some time with them. I love that." You wouldn't be able to do that if you were working in an office, he adds.
Already, people have started to ask them if they plan to have more children. "We're talking about it," he says. "It's on the cards - because we know we can make it work."

Jez was born into the pub game. His dad was a Nottinghamshire landlord and Jez would help out - sweeping up, collecting glasses - for pocket money while he was at school. "It's all I've ever known," he says.

He took his Level 3 Apprenticeship at 16 and was qualified at 18, working full time at his father's pub. By the age of 19, he was running it by himself, with his family helping out.
He met Beth at the pub and the couple took on The Unicorn's Head in 2012. The attractive pub, which is more than 300 years old, had been struggling.
The couple quickly turned things around - developing the garden, attracting families in the summer and improving the menu and food. The Unicorns Head started to do well - until a fateful night in autumn, 2015 when a fire tore through the pub, destroying everything.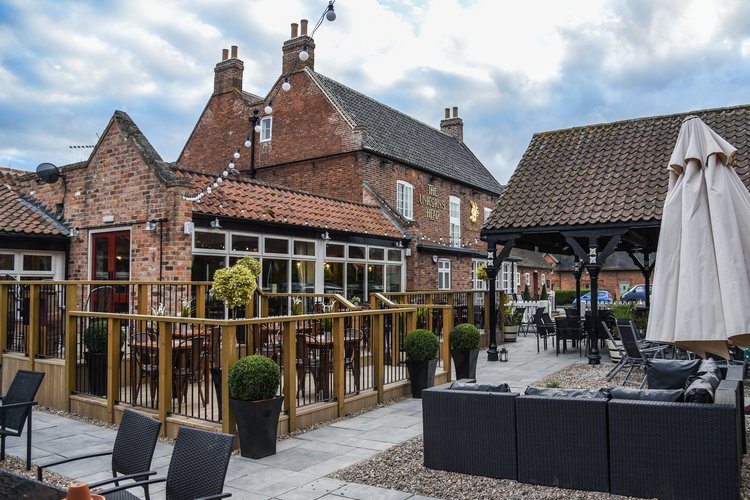 "The whole building was wrecked," remembers Jez. "We lost the lot. You find out, at times like that, it's not the tvs and gadgets and stuff that you care about - it's the sentimental things." The couple had been married just a few months. They lost all their wedding photographs.
Firefighters said the cause of the blame was an overheated tumble dryer. The insurance company paid part of the settlement - then went into liquidation. The whole period was just a nightmare, says Jez.
Jez and Beth - with the help of Everards - set to work bringing The Unicorn back to life. They redesigned the pub, creating an open kitchen, a deli and small shop for villagers and different rooms, which all serve a different purpose. A decking area was built and the garden improved. It took a long time to get right.
"The pub was closed for a year-and-a-half. It was a huge rebuilding job. What wasn't destroyed by the fire was ruined by the water," he says.
They had a chance, though, to make the pub better. "We grabbed that chance," he says.
It's worked, too.
"We've more than tripled the take here in the past few years," says Jez. "it's a good pub, with lovely food and a good reputation."
Langar is a small, pretty village on the rural fringe of the Vale of Belvoir. "There are only about 200 houses - but people come from all over Notts, Lincolnshire and Leicestershire because of the food, the gardens, the real fires in the winter - and they know it's a good pub," says Jez.
"I still enjoy it - I enjoy being a father, too. The key, I think, is to make sure the pub doesn't run me, that I run the pub.
"I've just employed a full-time general manager. The key to running a successful pub is to always, always keep thinking of new ideas.
"With someone running the day-to-day business, I hope that will give me more time to think of those ideas and implement them - and more time with my family, too."
Could running your own pub be for you?Share your vision and we'll talk you through everything