This will be Paul's 36th Fathers' Day at The Bull's Head
Father's Day is just one of the many family celebrations held at this Cosby pub.
In 1983, Paul Hodges – then 14 years old – moved into The Bull's Head in Cosby with his family. His Dad, Brian, had become the new landlord of the popular Leicestershire community pub. In June that year – over three-and-a-half decades ago – Paul and his Dad celebrated Fathers' Day together while living and working at 'The Bullies'.
Back then, Paul had no idea he would be spending 36 consecutive Fathers' Days at the pub. Paul followed in his father's footsteps and became the landlord in 2001. Ever since, he has retained his Dad's approach of running a family-friendly, welcoming pub that sits at the heart of village life.
This year, Paul will again be celebrating Fathers' Day at the pub – now with his own children, Samantha and Katie, and grandson, Cody. "It's amazing to think that this will be my 36th Fathers' Day at The Bull's Head," says Paul. "In many ways, Fathers' Day is just another day – I'll be working behind the bar as usual with Samantha and Katie. But it does remind you how nice it is to run a business surrounded by your family.
We all live in the village, which makes it easy for us to chip in and make the business work. Us working together also gives The Bull's Head a friendly, family feel. We all work hard to provide a very good service. We try to make everyone feel welcome."
Paul's grandson, Cody – Katie's son – is now three years old. What are the chances of Cody following in the footsteps of his grandfather? "You never know," says Paul. "Ask me again in 36 years!"
Celebrate Father's Day with a free pint down your local!
We've joined forces with our friends at Carling this Father's Day to offer you a free pint to celebrate Father's Day in participating Everards pubs across Leicestershire and beyond!


You can claim a free pint of our much-loved Tiger or a pint of Carling from the bar by claiming your voucher online and showing it to bar staff on Sunday 16 June when ordering your pint. To get your voucher for a free pint all you need to do is visit freebeer.everards.co.uk and follow the simple instructions on screen.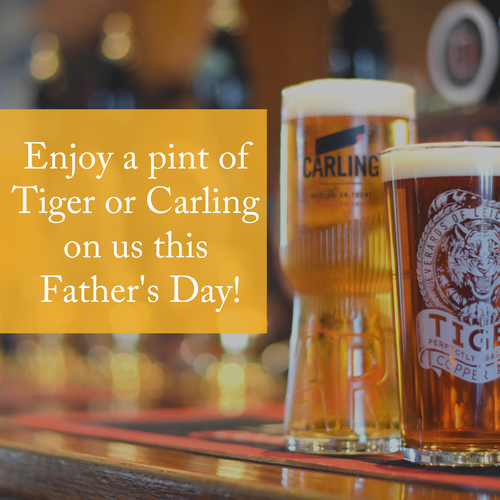 Want to know more?We'd like to hear from you.