In It Together – Alan and Sarah, The Black Horse, Aylestone
It's so inspiring to see how our independent business owners are remaining at the heart of their communities even when their pub doors are closed! Alan and Sarah are doing a fantastic job of keeping their community entertained and spreading a little happiness at this difficult time.
Alan Merryweather and Sarah Cunnington, business owners of The Black Horse in Aylestone were stranded in Tenerife as the coronavirus outbreak caused flights to be cancelled and travellers to be left miles from home, not knowing how long it would be until they could return to England and to their pub.
"Being in isolation in our hotel room gave us plenty of time to think and to brainstorm how we and our pub could help our community through this when we got back. We could see what was happening in Tenerife and knew it wouldn't be too long before it started happening at home." Says Alan.
Alan and Sarah finally arrived back in the UK the same day the Government ordered all pubs to close.
"With nothing to do and being cooped up in our hotel room, we were constantly on our phones reading the news, that's when we decided we wanted to help people take a little break from all of this and spread a little normality and happiness."
The Black Horse is a popular pub, known for its fantastic programme of entertainment, including a Sunday Bike Ride Club, quiz nights and a Cheese Club, not to mention a great array of comedy upstairs at the Laughter Loft. It's also known for its fun and friendly landlord and landlady, so it didn't surprise its many regulars when their favourite pub decided to keep the fun going through the many virtual events they have hosted since The Black Horse temporarily closed its doors.
"We love spending time with our customers and seeing everyone together having a good time and we think it's important to keep spirits up and bring the community together as a pub does. So, we set out to continue to bring people together, keep the fun going and put a simile on people's faces at this difficult time, by taking our pub online." shares Alan
Alan and Sarah have been busy organising and hosting virtual pub quizzes, supporting local comedians through virtual comedy shows, jam nights and a book club. And it's not only their customers that are joining them, they are seeing people from all over the country joining them for a little bit of fun.
"This virtual world is all new to us. We are learning as we go along and improving with every event we host, but we have been overwhelmed at the response to our events and the messages of support and encouragement we have received. It's just amazing to see so many people getting involved. We miss being on the other side of the bar and this has really helped us too!" said Sarah.
You can even join Alan and Sarah online every Friday for 'Lunch with the Landlord' where they invite you to meet them at the virtual pub for a good old chat. And they continue to explore and try new ideas, as they announced yesterday that they will be hosting an online music festival on St Georges Day, featuring local musicians throughout the day.
"We would like to thank our loyal customers and local community, who have supported us over the nine years we have been at the pub. Aylestone has a great community vibe and we are happy to be able to give a little something back at this time." says Alan.
We are seeing so many pubs adapting to this challenging time and remaining at the heart of their communities and Alan and Sarah are doing a fantastic job of keeping their locals entertained.
The Black Horse is also supporting their community by sourcing food boxes, so people don't need to head to the large supermarkets and hosting a food bank on Wednesday's 11am-1pm with The Emerald Centre for people who are struggling to get provisions. Alan and Sarah also help co-ordinate 'Aylestone Help and Support Network', a Facebook group set up to support people in the Aylestone community, whether that be helping with shopping or just being there for a chat.
"We can't wait to open our doors again, but for now we will continue to support our community in the way we know how, by bringing a little happiness to their day and remaining the hub of the community, where people can ask for help and join us for a chat!" Said Alan.
You can find out what's on at The Black Horse and more about the support they are providing to the local community on their Facebook page facebook.com/blackhorsele2 or website www.blackhorseaylestone.co.uk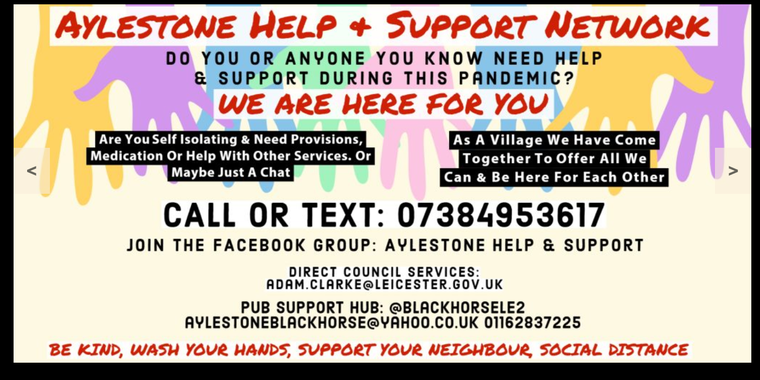 Do you think you could be at the hub of your community and adapt in challenging times like Alan & Sarah? If you would like to find out more about owning a pub business give the team a call on 0116 201 4100 or see what's currently available here or read more on what it's like here.
Want to know more?We'd like to hear from you.