In It Together - Simon and Samantha, The Black Boy, Headington
Simon and Samantha's ambition for their new business shines through as they adapt to these challenging times and create a great community hub for their village.
Just days after gracing the pages of The Oxford Times with a wonderful food review, new business owners Simon and Samantha Stonehouse of The Black Boy in Headington, were ordered, along with thousands of others by the government, to close their pub until further notice.
Husband and wife team, Simon and Sam took over The Black Boy last July and following an extensive and costly refurbishment they started to trade in December. Things were going in the right direction for the couple and since opening the team have worked hard to bring the pub back into the heart of the community. "Just before the Prime Minister announced that all pubs, clubs and restaurants had to close we had already started to put the motions in place to set up a community shop.
We could see an imminent closure and after a meeting with our head chef, Jonny Copper about what we could do to bring in some form of revenue to help pay those bills that can't be ignored, we turned the front of the pub into a shop and started to offer a food delivery service".
The shop stocks fresh vegetables, fruit, dairy and meat along with wine and other essential household items like toilet paper and flour. Orders for the food delivery service come via the pub's website and are delivered within a 20-mile radius of Oxford. The shop constantly has a flurry of customers due to daily social media posts and word of mouth recommendations. The pub has been supported by the local press who have shared stories on their initiative as well as a front-page story about the couple's children gifting Easter eggs to a local care home for the elderly using their pocket money they earnt from working in the shop. Which you can read more about here
With the word quickly spreading, the shop and delivery service has been a successful short-term enterprise for the couple.
"We were just getting in the swing of things and had started to invite the press in to review us, bookings for the hotel were strong and we had started to build a good rapport with our locals. Having the shop open six days a week enables us to serve more residents that we never got the opportunity to meet and every person that comes into the shop we stop and chat to. We try and brighten up their day as much as they brighten up ours. We tell them about the exciting things we have planned for when we do eventually re-open and with the food deliveries, we are able to capture data so we can keep in contact with everyone when things return to normal.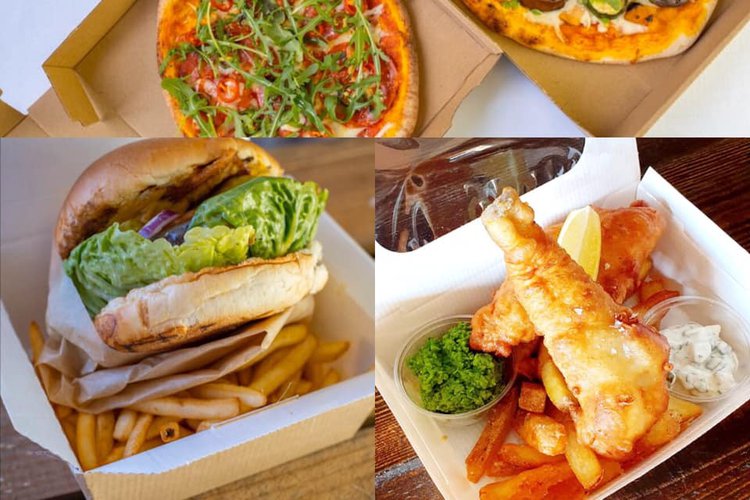 "Every day we receive such wonderful feedback about the shop and service we are offering, from thank-you cards to emails and regular comments on our social media channels." Simon Stonehouse,
The Black Boy
Although the pub is closed Simon and Sam are making sure their community can access what they need. "We are open 10.00am until 5pm Monday to Wednesday and then to 9.00pm Thursday to Saturday when we offer our takeaway menu," says Simon. "We are in the hub of NHS land with the John Radcliffe Hospital around the corner as well as the Churchill and Nuffield.
As we know many people are still having to work and staying open later means they can access the shop to get the essentials they need or pick up dinner on their way home. We certainly fee what we are doing is of value to people and keeps us mentally in check too in these strange times!
One thing we have found that is in much demand is flour, we sell around 450 kilos a week and people are buying as much as they can to make bread, pasta and cakes. The Takeaway menu we run towards the end of the week has been well received, we start taking orders from 3.00pm and the phone doesn't stop ringing until we close the kitchen at 9.00pm. We have also set up Deliveroo, popular for those that are unable to leave their home or perhaps live a little further away from Headington. We started to do fish and chips on a Friday and on the first night sold over 60 portions so quickly decided that we should leave it permanently on the menu. I think people want a bit of normality back, so many people we speak to have had their world literally turned upside down and having something as simple as a fish and chip supper on a Friday evening after work brings a little bit of normality and familiarity back."
Despite the pub being closed, Simon and Sam are hugely confident they will ride the storm and come out the other side stronger than ever. We have furloughed most of the team which Simon says "was made easier through the support that Rob, Martin and the rest of the team at Everards gave us. Everards continually offer huge amounts of guidance and are always at the end of the phone for us, I am not going to lie it has been hugely stressful for us, but their support is so reassuring."
Simon and Sam are using this time to deepen those new connections they have built with their community and helping to get them, their team, and their community through these times.
You can read more about their community shop and takeaway service here or find out more on their website or Facebook page
We find ourselves in exceptional times and our independent business owners are showing their exceptional qualities, like Simon and Samantha who is supporting their community in every way they can. Do you think you could be at the hub of your community and adapt in challenging times like Simon and Sam?
If you would like to find out more about owning a pub business give the team a call on 0116 201 4260 or see what's currently available here or read more on what it's like here.
Want to know more?We'd like to hear from you.