Long Live The Local
New campaign launched and backed by Britain's Beer Alliance and publican Jodie Kidd.
Jodie Kidd calls on the chancellor to cut beer tax and keep Britains' pubs open:
Famous publican launches "Long Live the Local" campaign to keep UK pubs open, as research reveals two-thirds of Brits believe pubs bring people and communities together Publican Jodie Kidd today launched "Long Live the Local" – a nationwide campaign backed by Britain's Beer Alliance that is calling on the Government to cut devastatingly high beer tax to help keep British pubs open. With increasing financial pressures from a range of taxes, three local UK pubs close their doors for good every day.

Landlord of The Half Moon Inn Kirdford, Kidd launched the campaign from The Chancellor's local, The Red Lion in Westminster, as new independent research2 confirms Britons' enduring love for the local. The study reveals nine in ten UK adults (89%) are pub goers, with a third visiting once a week or more.

However, pub goers today are enjoying much more than just pints and peanuts at their local, with nearly two-thirds (63%) saying pubs are a social centre and bring the community together, whilst over half (54%) are happy to visit the pub alone because they know they'll enjoy a chat with staff and other locals.

The place we come together to toast life, love and death, nearly all Brits (99%) believe the pub is a great place for celebrations and special occasions. Half (51%) have enjoyed a birthday in the pub, a third (32%) have toasted an engagement, wedding or anniversary and nearly the same number (36%) have said farewell at a wake in their local.
Furthermore, Brits are big fans of the activities pubs organise to bring communities together. The three most popular pub activities are quizzes (67%), open mic and karaoke nights (47%) and gigs and comedy nights (42%). Almost one in five (18%) use their local pub to meet up with social and cultural groups, including arts and crafts, exercise, LGBTQ+, senior citizens, book clubs and mum and baby groups.
Whilst the use of local pubs has never been more diverse, Brits remain traditional in their choice of drink. Beer is the number one drink at the pub (43%), over wine (15%) and spirits, such as gin (8%), vodka (7%) or whisky (3%). However, the nation's foodie obsession has landed firmly in our pubs too, with Brits today pairing beer with food, as seven in 10 say great food is now one of the top reasons they regularly visit their local.
1 Figure calculated from CGA Outlet Index data and British Beer & Pub Association analysis of Valuations Office Agency data
2 Research conducted by Fly Research in July 2018, with 2,008 respondents aged 18+ years
Nonetheless, with half of all pub-lovers saying the number one reason they would reconsider a visit to the pub is higher prices on beer and other alcoholic drinks, the rise in beer tax planned in the budget this Autumn is set to put local pubs and their contribution to communities in jeopardy.
Jodie Kidd, publican, says:

"The role of pubs has never been more diverse with 2 in 3 Brits saying pubs are a social centre and bring the community together. This campaign celebrates the vital role the local pub plays in our culture and communities. "As a publican, I can see the devastating effect rising beer tax is having on local pubs like my own, and the communities they serve. By supporting the "Long Live the Local" campaign, I am calling on Brits to sign a petition asking the government to cut beer tax and help keep local pubs open for generations to come."
David Cunningham, Programme Director for "Long Live the Local", adds: "Collectively pub, brewing and other related industries add £23 billion to the economy and contribute £13 billion in taxation every year3.

"However, three local pubs in Great Britain close for good every day and if the level of beer duty – already three times the EU average and 12 times higher than Germany and Spain4 – continues to rise this number will increase. The last time there was a period of sustained increases in beer duty, seen between 2008 and 2013, pubs experienced a 24% decline in beer sales, 5,000 pubs closed their doors and 58,000 pub and brewing related jobs were lost. We must not let this happen again.

"The "Long Live the Local" campaign empowers Brits to not only celebrate but also actively support their local. Pubs are one of the few remaining public spaces offering a unique combination of great food, drink and atmosphere.
"Pubs also contribute to the economy but are also the bedrock of communities across the UK. Whether you sign the petition or write to your local MP, we can all help our local to live long."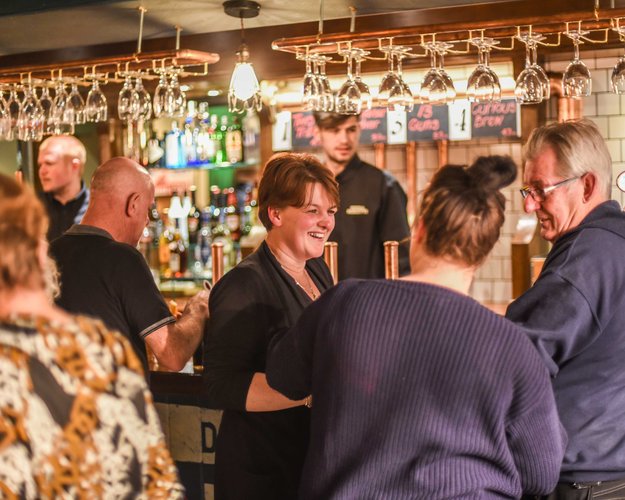 For more information on campaign and petition visit: www.longlivethelocal.pub
Or follow them on social: Twitter and Instagram
All of us at Everards are supporting the Long Live the Local campaign and we really hope you will too - see you down the pub!
Want to know more?We'd like to hear from you.