NEW! Amber Ale No.1 avilable in Mini Casks
We're pleased to offer these limited edition Amber Ale No.1 mini casks, you'll need to be quick though!
We're pleased to offer these limited edition Amber Ale No.1 mini casks. Different to our usual mini kegs, these are filled by our brewers with fresh beer directly from our cellar. So fresh, they are best before 4th August. Once opened they should be enjoyed within three days. They are the same size as our mini kegs containing 5 litres/8.8 pints of beer.

Amber Ale No.1 is an aromatic, full bodied ale brewed with three varieties of British hops. It has been brewed with established names like Maris Otter barley and Challenger hops alongside more modern British bred and grown hops selected by our Head Brewer like Archer and Minstrel.
The result is floral aromas with hints of apricot and lime and a taste that is delicately spiced. Amber ales are still the country's favourite and at 3.7% ABV this is a 'must try' if you love classic session ales.
Tastes great with grilled meats like chicken, burgers and sausages.
Allergen information: Contains barley and wheat
1.1 UK units per half pint
ABV 3.7%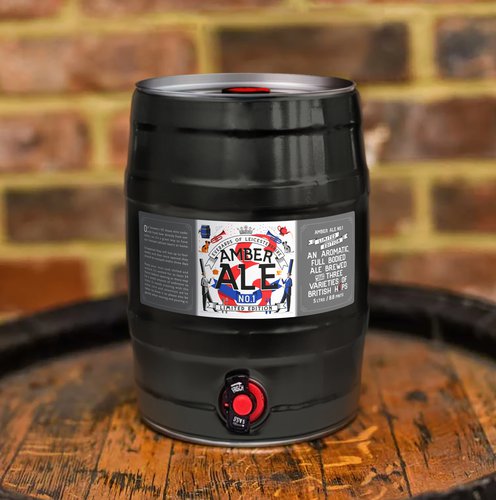 Our mini casks are a great way to enjoy this limited edition beer at home. Treat someone or treat yourself, but be quick as stocks are limited!
They need to be kept chilled and then settled for at least 24 hours before opening as there may be a small amount of sediment. It needs treating with the same care and attention we've taken to brew it so please be gentle when moving and pouring it.
Many of our customers save by stocking up on two mini casks and paying the same postage.
Want to know more?We'd like to hear from you.