The Richardson family celebrate their first year at The Honeycomb
April, Alan and Jade are enjoying life at the Honeycomb
Today we raise a glass with Alan, April and Jade Richardson as they celebrate their one-year anniversary at The Honeycomb pub in Mickleover.
Alan and April have only been at The Honeycomb for one year, but they are no strangers to the trade and all it has to offer, including the highs and the lows. 20 years ago, they ran a pub in Stoke, before they decided it was the right time to explore pastures new. Alan moved into sales and April set up her own mobile catering business, but now they are back in the trade they share a passion for and are enjoying pulling pints once again!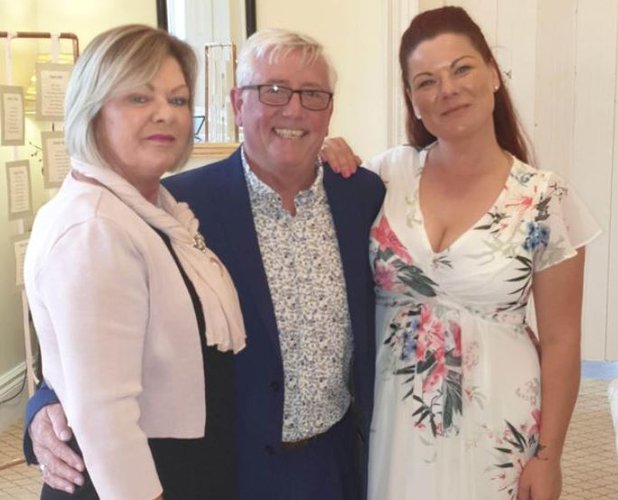 After moving to Mickleover and enjoying The Honeycomb as their local, over the years they saw the pub change hands and its reputation go up and down along the way, but from experience, they always knew what great potential the pub had and that with a bit of hard work and direction it could be a pub the community could be proud of and a successful business.
So, last year when the opportunity came up to take on the pub business, Alan and April decide it was the right time for them to move back into the trade as The Honeycomb presented a perfect opportunity.
"We thought it would be a great shame not to see The Honeycomb meet its full potential. Being part of the community and a regular at the pub, we knew what the community wanted from their local and what needed to be done to bring the pub to life and make it a great business." Shares Alan.
And the couple along with their daughter Jade have done just that!
Together, they have created a fantastic family business, which they all play a role in. Through years of experience in her mobile catering company, April has created a menu that everyone can enjoy, offering good quality homely food and their ever-popular Sunday Carvery. Alan works front of house providing that friendly face and a warm welcome, whilst ensuring everything runs smoothy, with daughter Jade taking care of staff rotas, events and the general day to day running, as bar manager.
"I worked long hours at the company I was with and April was doing two jobs," says Alan. "We weren't seeing much of each other, so it's great to be able to spend time with my family once again."
"Yes, it can be hard work, but it's our business and I'm enjoying being my own boss. It's nice to reap the benefits of all the effort you put in and to be able to shape the business how we want it to be. It really works for us as a family and we all relish the people side that a pub gives, so provides us with a lifestyle we enjoy."
The Honeycomb pub is part of the Everards of Leicestershire estate. Everards are known for their iconic 'Tiger ale' which they will be brewing in Leicestershire once again when their new state-of-the-art brewery opens next spring. Everards own over 170 pubs across the Midlands, and beyond which are run as independent businesses.
"Like us, Everards are a family-run business". Shares Alan. "When we first met, we felt that their values match ours and that it was the right partnership for us, and we were right! It's our business and our vision, but the experienced team at Everards are there to offer support and guidance if needed and it's been a relief to have them by outside during the recent lockdown."
It's not been the first year to their new pub venture Alan and Alison expected, but they have remained positive and kept busy and focused during the past three months they have been in lockdown.
"This is something none of us could have seen coming when we set out on this journey. We had put a lot of time, money and hard work into making the pub our own and building on our customer base. It takes time to get things flowing and we had just found our feet and were enjoying pub life when we had to close our doors. It was very worrying to be closing our pub at this time and with no end in sight, but with Everards by our side, we have felt well supported, which allowed us to concentrate on continuing to make our pub the best it can be, ready for welcoming our lovely community back again!" shares April.
Alan and the family have been busy refreshing the pub and creating a lovely welcoming garden to enjoy a pint and bite to eat on those sunny days!
With the necessary safety measures in place to keep both their customers and team safe, Alan, April and Jade are delighted to welcome everyone back.
"It really is so good to be open again and in time to celebrate our 1st anniversary here at The Honeycomb. We have really missed the buzz of the pub and our fantastic locals, so it has been amazing welcoming everyone back. We might not be able to have the party we planned to celebrate, but we will be raising a glass for our anniversary!" shared April
With the doors open wide once again, you can now enjoy a pint and delicious homecooked food at your friendly local or take advantage of their food takeaway service, which they have been operating throughout lockdown.
You can follow The Honeycomb pub on Facebook @thehoneycombmickleover
Want to know more?We'd like to hear from you.