Rutland Cycling Win Top Award
Rutland Cycling has won the 2018 Family Business Award for Retail Excellence in the 2018
Rutland Cycling, which has a new store opening in Leicester in 2019, has won the 2018 Family Business Award for Retail Excellence in the 2018 Midlands Family Business Awards, the only independent, not-for-profit awards showcase for family businesses in the Midlands.
Sally Middlemiss, Director, and daughter of founder Dave Archer, said: "This year has seen some challenging times for the bike industry, so it is particularly gratifying to win this award, as we continue to grow and deliver our vision of inspiring more people to own and ride a bike. This vision hasn't changed since my father founded Rutland Cycling in 1981 and we firmly believe that it's our strong family values that have set us apart and help us grow. Most importantly, it's the work that we all do every day, going the extra mile to deliver great customer service, which makes us excellent retailers."
"We believe passionately that to get more people making cycling part of their lives, you've got to make it convenient and easy. So, in our Rutland Cycling stores, you can hire a bike or e-bike, get your own bike repaired 7 days a week, borrow a courtesy bike while your bike is serviced, and pick up cycle clothing, spares and accessories.
You've also got to lead by example and inspire new cyclists to give it a go, and so we also offer led rides, including women-only rides, and bike maintenance classes for all cyclists. In the end, it's all about going the extra mile, both for our customers and each other. I'm hugely proud of 'Team Rutland', so it is wonderful to win this award in recognition of our work."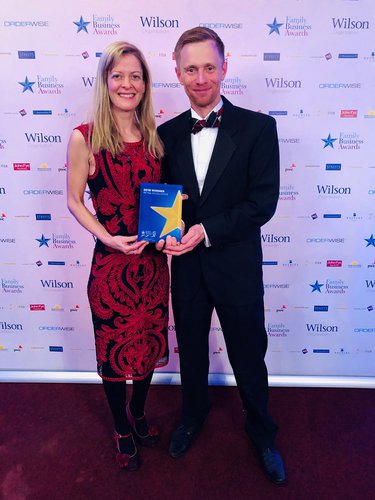 Rutland Cycling, established in 1981 as a simple cycle hire cabin on the shores of newly-created Rutland Water, is now a second-generation family business with 12 stores and an industry-leading website. Rutland's stores feature dedicated Electric Bike Centres and offer a wide range of products and services to all types of cyclists, from children learning to ride their first bike, through to performance athletes.
Now in their ninth year, the not-for-profit Midlands Family Business Awards are backed and run by The Wilson Organisation. The firm's MD Charlotte Perkins, the third generation of the family to lead the business alongside her sister Annabel Prow, says:
"The Awards are the Midlands' only independent initiative to recognise the work, success, innovations and achievements of family businesses. Family businesses are the backbone of the British economy, with two in every three of UK businesses being family owned. They generate over a quarter of UK GDP and employ around 12.2 million."
"Our Awards strive to shine a light on this incredible contribution, and the great work, innovation and successes of family businesses and their people here in the Midlands."
We can't wait to be neighbours with these guys at Everards Meadows in 2019!
Want to know more?We'd like to hear from you.