See you down the chippy
A brief history of the nation's favourite dish.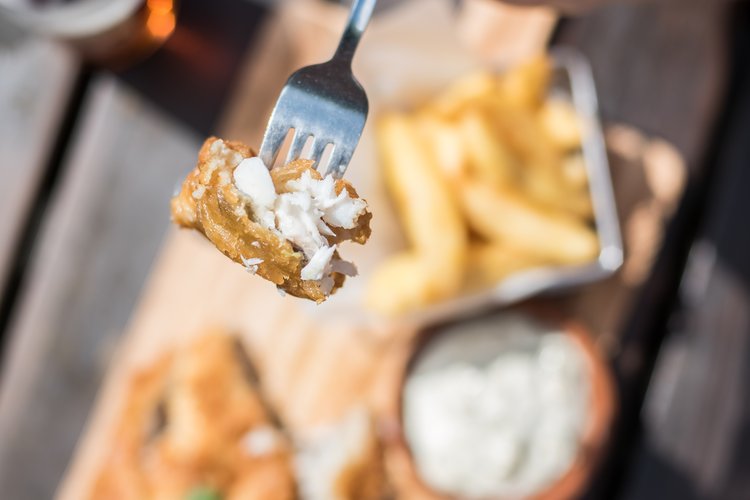 Did you know... an incredible 1 out of every 4 British grown potatoes ends up as chips, which equates to 1.25 million tons of spuds. That's a lot of chips!
It's a food that shaped most of our childhoods and continues to be a main staple of our Friday night treat. The beautifully simple combination of fish and chips have been served on our shores for over 150 years now, and wherever you choose to tuck into the dish, at the seaside, in your home or out at the pub, there's no doubting that fish and chips are both comforting and delicious. So, to celebrate national 'Fish and Chip Day' on June 1st, we've taken a look into the history of Britain's favourite dish, and some of the best places you can tuck into this tasty treat yourself. 
There are numerous stories about where the origins of fish and chips started. It is generally accepted that the dish has its roots based in either Belgium or France, where families would cut potatoes in the shape of fish to create chips when the rivers froze in the 17th century. Whereas battered fish was first sold by Jewish refugees in England around the same period.  Charles Dickens even referred to "Fried Fish Warehouses" in Oliver Twist, which was an early version of the chip shops we know and love today, although they served fish with bread or potatoes! Although there is a huge argument about where the first chippy opened in England, with both John Lees in Mossley, Oldham and Joseph Malin in London's East End opening around 1860. Both Malin and Lees combined fried fish and chips for the first time, and its popularity instantly rocketed, and it became so loved by the nation, that during the Second World War, it was the only takeaway dish not to be rationed!  

The popularity of fish and chips was powered by the arrival of railway steam engines, which in turn, helped to fuel the nation. This meant that fish being caught in the North Sea could be distributed from ports such as Grimsby around the country the same day, revolutionising the quality and freshness of the fish, making it even more delicious!
The places that serve these tasty treats may have changed, but the fundamental components of the dish certainly haven't. Although in the 1980s the government banned chip shops from wrapping their wares in newspaper without greaseproof paper between the food and the newspaper, for fears that the ink may run onto the food. This meant that most chippies ditched the traditional newspaper wrapping due to cost and time issues. 
There has been a noticeable revival in the trendiness of this humble dish in recent years, with celebrity chefs like Rick Stein and Gordan Ramsey opening restaurants specialising in 'gourmet versions' of the product, celebrities such as Steven Gerrard, Kate Winslet and Mylene Klass serving up fish and chips at their weddings, and countless new restaurants serving up their own edgy takes on the dish, in turn making phrases like 'hand-cut chunky chips', 'line-caught' and 'freshly battered' the norm.
But whatever combination you choose to have, scampi bits with a small chips, tomato sauce on the side, or dousing everything in gravy and cheese, there's no doubt that Fish and Chips is a dish that is here to stay. Now, is it Friday night yet? I'm starving!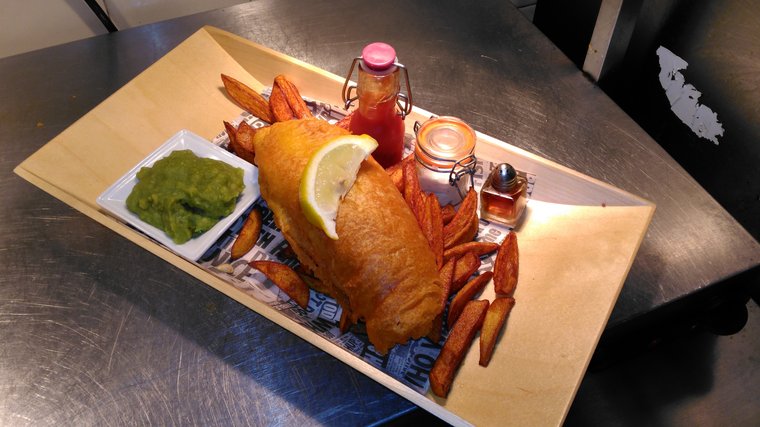 Feeling peckish yet? Here's a few places to try some tasty fish + chips for yourself…

King Richard III – The team at the King Richard III have got the batter to fish ratio spot on, and the Beer Battered Cod is light, crispy and incredibly scrumptious. The ample portion size is going to fill you up, there's no question about it, so make sure you have a light breakfast beforehand.
70 Highcross Street, Leicester, LE1 4NN
The Hearty Goodfellow – Hearty by name, hearty by nature. This pub's delicious offering sees yet another seismic portion being dished out, and ignore the old adage, because in this case bigger is definitely better. And with the type of fish being offered changing every week, you've got every reason explore this tasty treat in person on a regular basis. 

81 Church Street, Southwell, Nottinghamshire, NG25 0HQ
Knight & Garter – What's not to like about flaky haddock encased in batter made with German beer? Served with pickled onions, and super-soft mushy peas, The Knight & Garter's offering has got delicious written all over it. Plus, the stunning newly opened restaurant is worth checking out in its own right.

Knight + Garter, 14 Hotel Street, Leicester, LE1 5AW
The Architect - The Architect only serves fish + chips and pie + mash which may seem like a bold choice, but one taste of this pub's food and you'll see that they have become specialists in this field. Customers can choose what kind of fish they'd like (haddock, cod, calamari and halloumi if you're interested…) along with which variation of batter (we recommend the green chilli tikka batter!), sides and homemade sauce they'd like to accompany their dish, yummy!  
The Architect, 43 Castle St, Cambridge CB3 0AH
Want to know more?We'd like to hear from you.