Justin and WayneThe Queen's Head
Justin Bowles and Wayne Robinson swapped a busy, urbane city life to become business owners of a lovely village pub in a sleepy hamlet in Derbyshire. How are they finding it? "It's the best thing we've done," says Justin.
It's been something of a sizeable lifestyle change for Justin Bowles and Wayne Robinson, the new Business Owners at The Queen's Head in picturesque Little Eaton, Derbyshire.
The couple moved into this impressive-looking, old village hostelry in May 2019. "We'd never heard of the pub or the village," says Wayne, who was previously a music teacher.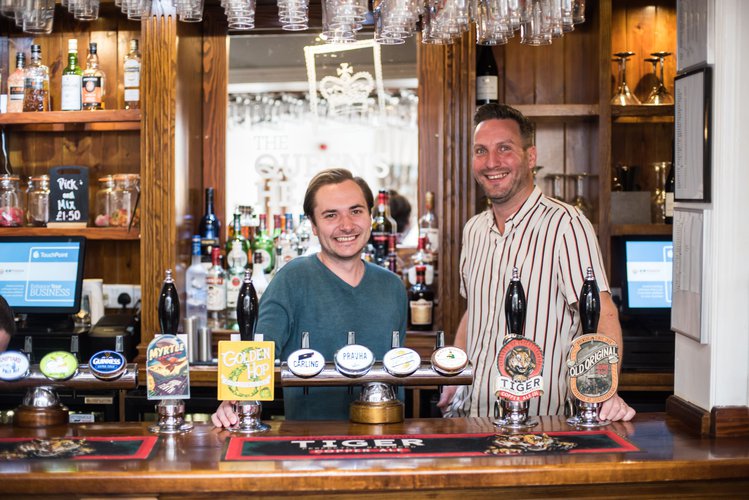 "But we came up to see the pub, looked round, had a meal and saw so much potential. We knew, pretty much, what we wanted to do here, to make it successful."
While Wayne's background is musical, Justin has spent most of his working life running pubs and restaurants. Justin has run pubs and restaurants all over the Midlands. Big pubs. Small pubs. Chain restaurants. Huge wedding venues. All sorts and sizes. But he was always answering to someone else.
Not now. Now the name above the door is his and Wayne's. The buck stops here. It is both thrilling - and just a little bit nerve-wracking. "But we were ready for it," says Justin, "I've spent my working life in hospitality - but my dream was always that, one day, I'd run my own pub."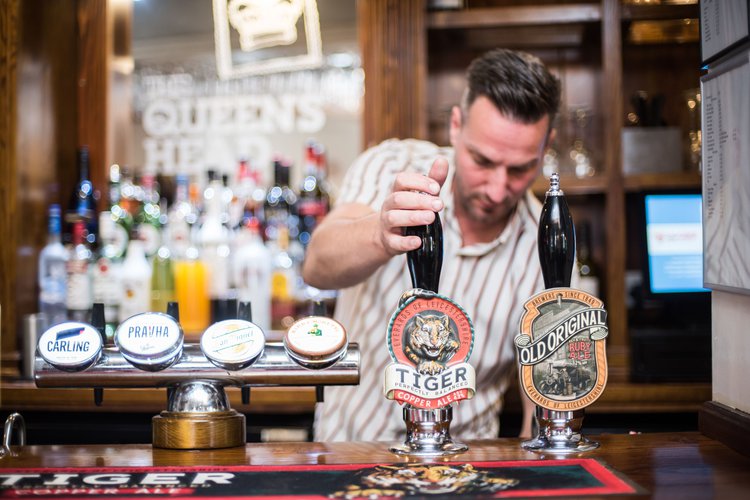 We only contacted one company, we didn't look anywhere else. I'd worked in a good Everards pub and I knew how supportive and friendly they were and we wanted a company that matched our ambitions.
There's never an absolutely ideal time to make that move. But, equally, if you keep putting it off then you'll never do it.
We talked about it and we decided we should do it, we should make the move," he says. They contacted one company, Everards. "We didn't look anywhere else," says Justin. "I'd worked in a good Everards pub and I knew how supportive and friendly they were."
That was important to them, says Justin. "We wanted a company that matched our ambitions," he says.
They were more concerned about the move from city to the country than the extra responsibility of running their own pub. "I'm used to busy city centre pubs and restaurants," says Justin. "We knew there was a challenge running the pub - but we also knew it would be a completely different life to the one we were used to."
They needn't have worried. Although it's still early days at The Queen's Head, the people of Little Eaton have taken Justin and Wayne to their hearts.
It may well be that this tight-kinit rural Derbyshire community have been seduced by Justin and Wayne's good looks, personality and easy charm. "But, really, I think they're just pleased that they have their pub back," laughs Justin. Good people just want a good pub, he says.
"We have a website, we do a lot of promotion on Facebook but the best advertising in a small village like this is old-fashioned word of mouth," says Justin. "If people come in, see the pub has changed, are treated well and enjoy themselves - word soon spreads."
They organised a big welcome party to announce their arrival at The Queen's Head. The whole village of Little Eaton was invited.
Everyone who came was given a free glass of Prosecco. It cost the couple a small fortune - but it was a vital bit of easy PR.
"It worked," says Wayne. People not only got a glimpse of the new-look pub - they got to meet Justin and Wayne, and see what they were about and what they wanted to do to the pub.
The pub has been swiftly revamped. New fixtures. New furniture. A lick of paint. New lights. Fresh flowers everyday. It's brighter, cleaner, more welcoming - and this is just the start, says Wayne.
"We want to do so much more," he says. "And we will do. The changes will be gradual, at first - but we're already looking at more ambitious plans to make the pub better."
The menu has been re-thought and overhauled. Good, freshly made and reasonably priced food is an important factor at the new-look Queen's Head. "We brought a new chef with us, who is a brilliant and original cook," says Justin. "The food offer here now is much better than it was - but that's what people said they wanted."
Is it what they expected it to be? Yes, they both agree.
"There are all sorts of positives and negatives about running your own pub," says Justin. "It's a relentless working life. The pub, the business, the customers - they become your life. It's all encompassing, you have to get used to that.
But it's different every day. And the people make it what it is. We hadn't been here very long and one of the old customers came to me and said: 'Thank you,' and I said: 'What are you thanking me for?' 'For giving us our pub back,' he said. "And that," smiles Justin, "well, that just makes it all worthwhile. That's what we do it for."
Could running your own pub be for you?Share your vision and we'll talk you through everything