Growing Together
Justin and Wayne began their journey with Everards back in October 2018, it was great to catch up with them to hear all bout the last 4 years and how far they've come...
Justin and Wayne began their journey with Everards back in October 2018.
"We met for an initial conversation about what we thought we wanted our pub to be. It was a great chat and really set the tone for our relationship going forward."
After looking at a couple of pubs they settled on The Queens Head at Little Eaton, having seen so much potential within the business. "We spent our time putting the pub at the heart of community, bringing back live music events and improving the food offer. During the lockdowns we gave the pub new furniture outside and decorated throughout the pub too. We really felt settled and happy there."
Fast forward to August 2021 and The Stamford Arms in Groby became available. Having grown up in the area Justin and Wayne knew it was an opportunity they wanted to pursue so applied to take over the reins. "Being from the area and having family here I already knew what a fantastic village pub The Stamford Arms was! We were delighted at our successful application and our main goal has been to keep the pub at the heart of the community and build on the strong foundations here."
Having been with Everards for almost 4 years, Justin and Wayne have grown to know the brewery very well. "Everards have been fantastic to partner with during what's been a very testing time. They're friendly, supportive and there's always someone at the end of the phone to chat to."
Since taking over at The Stamford Arms Justin and Wayne have had a smooth transition between pubs. "We've had no real challenges so far. We've spent time getting used to the scope of the business and then building relationships with our guests, community and team has been the real focus for us so far."
Recognising that the pub was in a good position when they took over, the time has really been about recognising what makes The Stamford Arms so popular and ensuring that the correct team is in place to welcome customers.
"The Stamford Arms really is a fantastic pub, which has many different facets to it. We have a great restaurant and outside pods, a big bar area for socialising and live music, extensive garden space and even a street food shack. All of this makes the pub what it is and we've also built a fantastic team around us to ensure our guests are well looked after!"
"A great pub is one that is there for everyone, whenever they want to use it and for whatever they want to use it for. It may be a book club, family meal, live music or drinks in the sun on the patio. The biggest thing for us is that we have a team that is welcoming to all guests and that they enjoy all aspects of their visit to us."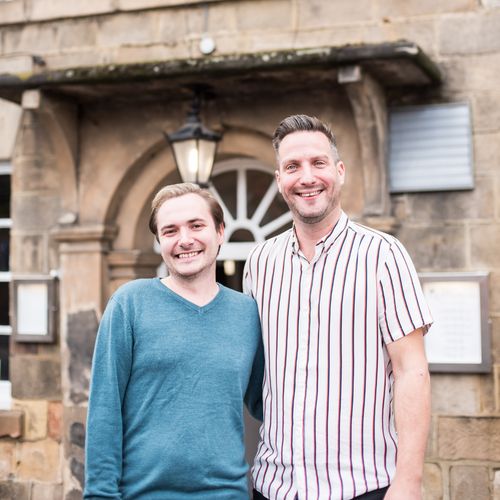 And for those who might be considering taking on their first pub, Justin and Wayne's advice is simple. "My advice to anyone wanting to run a pub is to just go for it! It gives you a fantastic opportunity to be a part of a community, a great work and social life and it is so rewarding to see happy guests in your pub!"
Want to know more?We'd like to hear from you.