At the heart of the community
Yolanda and Chris at The White Lion in Whissendine have received great recognition for all they have done and continue to do to support their local village through this difficult year.
Last year's CAMRA Rutland Pub of the year, The White Lion in Whissendine has been recognised once again - this time not only for supplying Real Ale drinkers with quality beers, but for being a major part of their community during the Covid-19 lockdowns, and CAMRA have presented them with a certificate to award them for services during the Lockdown.

Huge congratulations to Yolanda and Chris, business owners of The White Lion. It's great to see that their hard work, determination, and community spirt at this difficult time has been recognised and not just by CAMRA Rutland. Yolanda and Chris have also seen recognition from The Lord Lieutenant of Rutland and The High Sheriff of Rutland, for their outstanding community effort.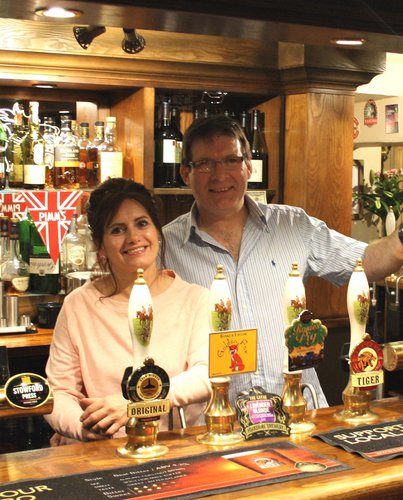 Yolanda and Chris at The White Lion in Whissendine
During these lockdown periods Yolanda and Chris have been busy supplying takeaway meals for villages and personally delivering to those in the community that are shielding and continuing to do so. They also form part of the village volunteer team providing support when needed, including shopping trips for those that are shielding.
They share Community Hub and Parish Council information on their Facebook page and display Covid-19 and Help the Aged information in their pub windows to help keep villagers informed on guidance and services available to help.
To top it all off, Yolanda and Chris have been given a handmade bench to place in the pub garden (carved by a local Carpenter) to commemorate all the great work of the NHS and Key Workers.
"The Bench was presented to us by a member of the community that would like to remain anonymous. It really is a beautiful bench made from a Holly Tree that required cutting down. We are very proud to have this as a feature in our garden as it will be a reminder of all that people endured during the Covid-19 pandemic." shares Yolanda and Chris.
"We were very surprised and overwhelmed to receive all this recognition. Whissendine is a great village with such lovely, caring people of which we feel very honoured to be a part of. We really do feel very appreciated by the community and thank everyone for being so supportive to us during these unprecedented times."
"This is a fantastic achievement and great recognition for the way Yolanda and Chris have continued to look after their locals over the past incredibly difficult nine months. It is very well deserved, they are a great couple and fantastic business owners, said Steve Russell, Business Relationship Manager at Everards.
"We have seen so many of our business owners supporting their communities and creating a real hub like Yolanda and Chris have. It really is great to see how pubs have remained an important part of communities at this strange and uncertain time."
You can find out more about The White Lion on their website www.whitelioninn.com or follow them on Facebook at @whitelionwhissendine
As we continue to evolve and invest in our pubs, other independent businesses and our new state of the art brewery in Leicestershire - which is due to open next spring - we look set for an exciting and bright future ahead and are always looking to chat to positive, forward thinking people who would like to be part of our journey and the future of hospitality.
If you are interested in running your own pub business or ready to take the next step with your own independent business, we would love to chat!
To find out more, please get in touch here.
Or take a look at the current pubs we have available here.
Want to know more?We'd like to hear from you.