The Paget Arms and Everards
Dave and Kim took over the Paget Arms in Loughborough, just over a year ago. After meeting them at one of our Pop Inn events we could see what a great fit they were for the Paget and were able to offer them an agreement that was right for them.
A year on they are running a thriving business in the student town of Loughborough, with the help of eight month old pub dog Clyde! The pub sits surrounded by houses of the locals and regulars that have now become friends.
After joining us at one of our Pop Inn event (which we now do virtually), Dave and Kim could see the potential the Paget Arms had to offer and more importantly could see themselves there. However, they weren't in the right place to take the pub on in our traditional way of a three year tenancy, but after a chat with Martin our Business Development Manager (BDM) for the pub he could see that Dave and Kim were the perfect fit for the pub.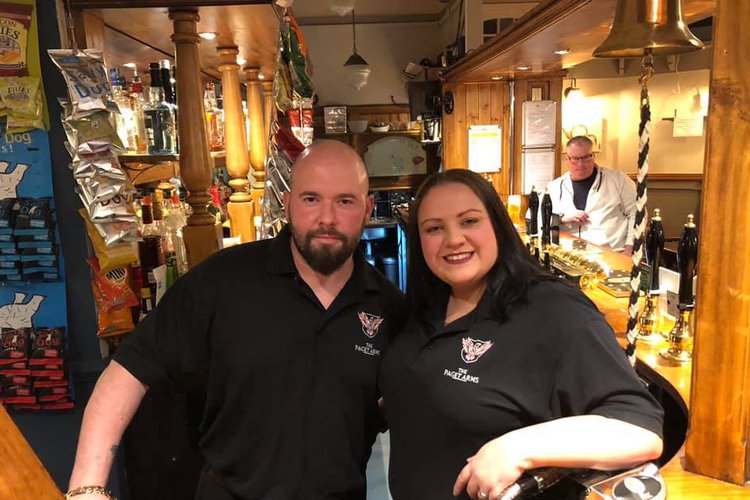 "I've had pubs before, but Everards have been amazing to work with." Dave,
Paget Arms, Loughborough
"It's all about getting the right people" says Martin "it's the business owner that makes the pub successful. We look for talented people who love what they do, we can help with the funding and getting them on their feet with the finance side of things, but we can't give them their talent, that comes from within. We're motivated to find the right pathway to the pub for the right people."
Dave had managed many a pub in his career across the Midlands as well as working as a bouncer and bodyguard for 18 years and Kim worked as an office manager. Originally Dave ran the pub whilst Kim carried on working and Kim has now joined him in the pub full time.
"I've had pubs before, but Everards have been amazing to work with, I've been blown away by the company in general but especially the people; every need I've had has been supported as I have asked and it's just been so easy and positive.
We started our conversations with Louisa in the Attraction team, and she was great at taking us through the start of our journey. Louisa really spurred us on and made us know we had made the right decision with Everards and even now is a familiar face that we know we can call at any time.
Louisa and Martin made us feel so welcome from the beginning and helped us find a way to work together. I love working in this industry, being in the pub chatting with customers and choosing which beers we have on - it makes me happy." says Dave.
"But I could not see a way to do this financially on my own at this point in time, that's why I was working as a manager before taking a break from the industry. I had a break for three years whilst I cared for my Dad and I realised then that if I went back into the trade, that I really wanted my own pub. We saw the advert from Everards and decided to just go and have a chat. I'm glad we did. We are not on the traditional three-year tenancy agreement, but we've worked out a way to get there together thanks to Louisa and Martin.
The support and network of Everards and all their business owners is amazing, and we are proud to be business owners with them and part of it all. We are loving the journey with Everards, despite Covid arriving just eight months into us taking the pub, actually the pandemic has just cemented how great they are to work with and we can see ourselves at the Paget and with Everards for years to come."
If you are looking to take on your own independent business, like Dave and Kim, we would love to chat and see if we can work together to put in place an agreement that is right for you.
It's not just pubs business either, more recently we have partnered with Jenno's Coffee House to grow their business from one coffee house to two and also Rustic Crust to get their pizza business from a mobile business to a brick and mortar business, both on different business agreements to suit them.
So, if you are unsure on the financials, get in touch here or give us a call on 0116 201 4260 and see if we can help make your business ideas viable and get you behind your very own bar.
Want to know more?We'd like to hear from you.