Alan and SarahThe Black Horse
Alan and Sarah run the Black Horse in Ayelstone and despite being experienced in the pub trade they found this pub difficult to settle in to at first, but hear how they worked through it to have a popular pub that they love!
A publican for most of his working life, Alan decided to call time on his chosen career when he hit the BIG 40. No more pulling pints. No more pubs. After 20 years as a landlord, he would do something different, he told himself.
"I just felt like I'd lost my hunger," he says. "I wasn't enjoying it. I'd run out of steam."
Alan learned quickly that running a pub is like running any successful business - it's always about the people. They're the most important factor.
"It's finding good staff - and keeping good staff - making sure they're happy and motivated and always ensuring the people who come into your pub are given a warm welcome.
Alan planned to leave the pub trade and re-train as a police drugs liaison officer. But then police budgets were slashed and they stopped recruiting "and then, one day, the man from Everards turned up," he says, laughing at the memory.
"He lived in the village we were working in and I think he liked what we'd been doing to the pub. He asked me if I'd be interested in taking on one of their pubs.
Alan shook his head and said no.
"They were nothing if not persistent, though," he recalls.
Sarah remembers it vividly. "I knew they were wooing me. I knew exactly what they were doing - but I liked it. And, more importantly, I liked what they said."
"I went to the interview," he says. "But I was still sure I was going to do something else." He changed his mind in the reception area at Everards' HQ.
"I remember seeing people walk past, up the stairs, through the corridors, and they were talking to each other and smiling. They liked each other.

A few people looked over at us and smiled. They were friendly.

People, he says. The people seemed right. "It just clicked. I remember before the interview thinking: 'You know what - this seems right…'"
At first, they struggled to settle in. "I swear my bag was packed, ready to leave, for our first three years here," says Sarah. In 2014, they pumped £35,000 of their own cash into the pub - an investment matched by Everards - to refurb the place, open it up.
The investment was recouped within a year. Thanks to a rolling programme of events - three beer festivals a year, gin festivals, comedy shows, plug in and play nights, cheese and wine events - the pub is a resounding success.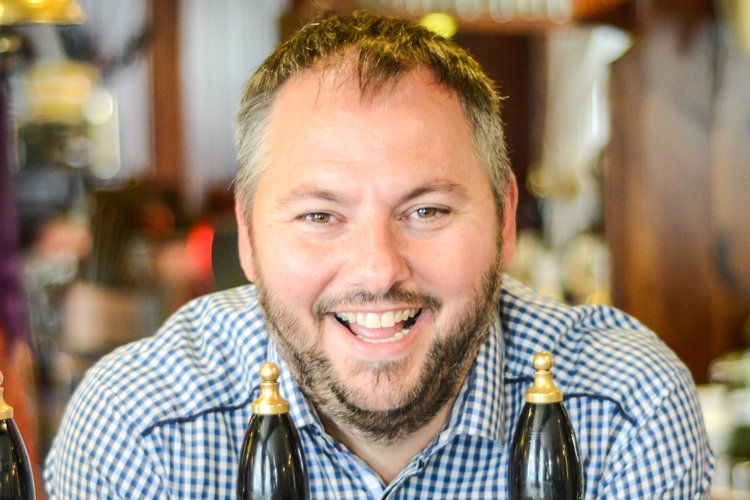 Six years ago, Alan wanted a new career. Now? Well, he's glad he stayed on.

"The pub is doing well and we're enjoying it again."
Could running your own pub be for you?Share your vision and we'll talk you through everything